For Packages of Nainital Click Here
NAINITAL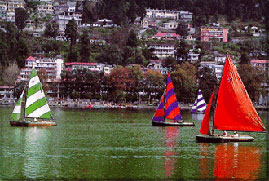 A perfect Gem Popularly called the lake district because of a string of closely located lakes (Bhim Tal, Sat Tal, Naukuchia Tal and, of course, Naini, Nainital district has other claims to distinction : Corbett, India's first national park: Kathgodam, nucleus of the timber trade and a railhead for Kumaon: Bhowali, Major fruit market; and Kaladhungi, fertile wheat bowl and home of Jim Corbett.
March – June, mid September – October
The weather is very pleasant throughout the year. But it becomes very cold in winters.

Summer - Max: 27° Min: 10°
Winter - Max: 15° Min: 3°
SITES TO VISIT
(2611 Mt) The highest peak of Nainital provides a challenge to the most avid trekkers. Situated about 6 kms from the town China Peak is known for its splendid Bird's eye view of the town, the Himalayas and also the vast expanses of the Terai regions of Kumaon.
(2270 Mt) About 3 kms from the town and also accessible via a cable car. Snow view is one of the most visited tourist spots of the town. It provides enchanting view of the town and 350 km long range of the Himalaya.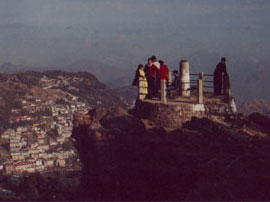 (2290 Mt) also known as Dorothy's seat -in memory of an English lady Mrs. Kellet Dorothy, who was killed in an air crash Tiffin top is a short trek of about 3 kms from Nainital and provides excellent view of the Himalayas and the town.
It is about 4.5 km from Nainital. Situated at an altitude of (1951 Mt).Observatory is basically a place of astronomical studies. Public is shown round some of the instruments during working days at afternoons. For night viewing three- four days on moonlit nights are fixed and permission is needed.
(2118 Mt) About 4 kms from town provides a magnificent view of the plains and the beautiful Khurpa Tal surrounded by beautiful village and pine forests.
(1950 Mt) About 3 kms from Nainital is the famous temple of Lord Hanumanji. One can view the magnificent sun set from here.
About 5 kms away from Nainital on the way to Kilbury, nestled at a height of about (2300 Mt)is the beautiful tourist spot, from here one can have a glimpse of mighty Himalayan ranges and lower forested ridges. It is a very good place to pass some time in solitude enjoying the beauty of nature.
SITES NEARBY
(1371 Mt, 22 km) Bigger than Naini, this lake is named after one of the Pandavas, heroes of the epic Mahabharat. Accommodation, boating and fishing facilities are available at this scenic resort.
(1706 Mt 11 km) En route to Ranikhet or Almora, it is a major fruit mart and health resort. Only 3 km from here is Ghorakahl, famous for a temple to Gollu Devta, a demi-god highly revered by the Kumaonis.
115 km (via Kaladhungi) This is one of India's best known wildlife sanctuaries. Commemorating the celebrated hunter- conservator Jim Corbett, it spreads over 526 sq km of forested area.
The wildlife here consists of tiger, panther, wild bear, sloth bear, elephants, deer python, and crocodiles among others. An astonishing number (585) of bird species have been spotted in the park.
(1219 Mt 18 km) This is a health resort and a bee-keeping centre. Strawberries grow here in plenty. Also an attraction for butterfly catchers.
(1218 Mt 26 Km) This is nine-cornered lake which receives migratory birds. Both yachts and paddle boats are available for plying on the lake waters.
25 km This is known as the home of Kumaon orchards. Prosperous estates can be seen here.
21 km There are three lakes (of the original seven Sat), named after the epic personages Ram, Sita and Lakshman near the main resort. The others are some distance away.
The nearest airport is at Pantnagar, 71 km away. It is connected by Vayudoot services with Delhi. A coach takes the tourists to Nainital. Taxis are also available.
The nearest railhead is at Kathgodam, 35 km away. Nainital is connected by rail to Delhi, Agra, Bareilly and Lucknow. Taxis and buses are available from Kathgodam to Nainital.
Nainital is connected by good, all-weather roads to Delhi (322 km), Bareilly (141 km), Almora (66 km) and Ranikhet (60 km). Public and private bus companies ply regular bus services between Nainital and Delhi, Lucknow, Bareilly, Hardwar, Dehradun, Almora, Ranikhet, Ramnagar and other important towns in the state.