For Packages of Ooty Click Here
OOTY
Udhagamandalam (Ooty), the capital of Nilgiri district, is popularly known as the "Queen of hill stations' among the tourist circuits. It is situated at a distance of 105 km away from Coimbatore. The height of the hills in the Nilgiri range varies between 2280 and 2290 metres, the highest peak being Doddabetta at a height of 2623 metres.
Couched amidst those gorgeous blue mountains of southern India, there is something special about the erstwhile British township of Ooty. Year after year, it draws tourists, adventure enthusiasts, honeymooners and the film industry like bees to nectar. Sure, many wise travelers believe that Ooty is a dumpyard, a degraded, over-rated hill station, and so on. Nevertheless, the wiser one will see how Ooty can soothe strung-up nerves and become the backdrop for a wondrous holiday.
It is believed that the name Nila, has been in use for over 800 years since, the King of the Hoysalas Vishnu Vardhana, who ruled from 1104 to 1141 AD seized the Nilgiris Plateau. His General Ponisia recorded this fact in 1117 AD with mention of Todas. The name Nilgiri was due to the blue haze, which envelops the range with most distant hills of considerable size.
This Nilgiri territory came into possession of the East India Company as part of the ceded lands, held by Tipu Sultan, by the treaty of Srirangapatnam in 1799. Rev. Jacome Forico, a priest was the first European who visited Nilgiris in 1603 and released his notes about the place and people of Nilgiris. In 1812 surveyor William Keys and Macmohan visited the top of the plateau.
In 1818, Wishand Kindersley, Assistant and Second Assistant to Collector of Coimbatore visited this spot and submitted their experience report to the Collector of Coimbatore Mr. John Sullivan. Settlement in Udhagamandalam began in 1822 with the construction of the Stone House by John Sullivan, the then Collector of Coimbatore. The bungalow, which is locally called "Kal Bangla", is one of the landmarks of Udhagamandalam and is now the Chamber of the Principal of the Government Arts College.
April to June and September to November
TOURIST ATTRACTIONS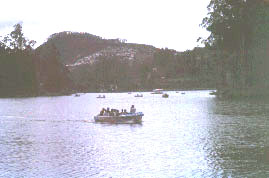 A variety of exotic and ornamental plants adorn this garden which is the venue for the Flower show held in May every year. There is a fossil tree trunk 20 million years old in the midst of the garden.
Boating is possible from 08.00 hrs to 18.00 hrs on all days. The lake garden and toy train rides are other attractions.
The Government Museum, Mysore Road, Udhagamandalam has items of tribal objects, district's ecological details and representative sculptural arts and crafts of Tamilnadu.
SITES NEARBY
Ooty has the singular distinction of having many places around that are worthy of a visit, or sometimes even a halt. Heading east from the southeast of Ooty will take one to Coonoor and Wellington, two very beautiful townships. Coonoor, though small, had much to boast of Sim's Park, Lamb's Rock, Dolphin's Nose and generally pretty landscape. Wellington, of course, is a typical army township, clean and smart.
About 28 km from Ooty, towards the east, is the 26-sq-km Kotagiri, incredibly picturesque, amongst the first townships of the British and a great place to visit. From Kotagiri one can even proceed to the Kodanad View, Catherine Falls or Rangaswamy Peak, all famous for their natural beauty.
The famous Mudumalai Wildlife Sanctuary, 67 km from Ooty, stretches over 321 sq km. Traveling to Ooty from Mysore and Bangalore, one passes the sanctuary with its dense vegetation crowding the banks of the lovely Mayar River. Herds of wild elephants, or lone tuskers, a great variety of birds, cats, snakes, and deer are known to live in these cool, dark jungles of the Nilgiris.
Ten kilometers out of Ooty is the great Doddabetta Peak, the highest in the Nilgiri chain of mountains. Doddabetta stands at 2623 m and if your trip is made on a clear day visible all around you, will be Coonoor, Wellington, Mettupalayam, and Coimbatore. If it's an exceptionally crisp day, you might even see Mysore.
Avalanche, Upper Bhavani, Mukurti and Pykara are all places that are near Ooty and must be seen for their scenery. The reservoirs at Avalanche and Upper Bhavani are excellent waters for angling with the rainbow trout in particular abundance. All these places have an attractive mixed landscape of forests, shola-grasslands and tea-filled slopes.
Finally, for the scientifically curious, en route to Avalanche from Ooty is India's largest radio telescope. So also the Hindustan Photo Films in the Wenlock Downs, the only factory of its kind in India, manufacturing sensitized photographic materials.
FAIRS AND FESTIVALS
Tea & Tourism Festival Ooty (January)
Thaipoosam in Elk Hill Murugan Temple (February)
Bookkapuram Mariamman Annual Festival (February)
Ooty Mariamman Temple Festival (April)
Coonoor Mariamman Temple Festival (April)
Boat Races and Boat Pageantry in Ooty (May)
Flower Show in Ooty (May)
Fruit Show in Coonoor (May)
Coimbatore, 105 km from Ooty, is the nearest airport. Indian Airlines has flight to Coimbatore from Bangalore, Cochin and Madras.
The Blue Mountain Express to Ooty is from Mettupalayam (47 km). Mettupalayam can be reached from Coimbatore by the Tea Garden Express.
All important towns of Tamilnadu, Kerala and Karnataka are connected to Ooty.